General French Language Courses in Paris – all levels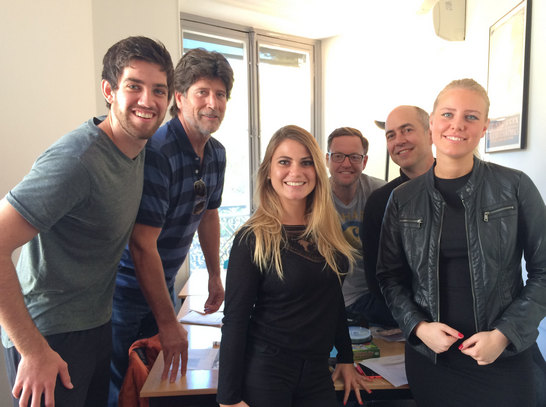 Learn French in France -French immersion programs in Paris
For over 20 years, LUTECE LANGUE has provided French language courses for foreigners, both professionals and, individuals. Our French courses are in small groups of 2/7 students and cover from beginner to advanced levels. Needless to say, all the students are placed in a class according to their current oral, writing and comprehension level.
We adopt a "direct" teaching method (teaching French in French without translation) because we believe it's the most efficient approach to developing students' communication skills. In fact, our goal isn't just to teach French grammar and vocabulary. Rather, we focus on teaching how to use tools (grammar and vocabulary) in the act of communication.
Our French program is designed for adult students (18+)
Check the information about French courses for COMPLETE BEGINNERS
INTENSIVE 15h/week  
3h x 5 days, Monday to Friday
9h00-12h15 or 13h15-16h30 (according to level)
SUPER INTENSIVE 30h/week
Rquired level: min. A2
*INTENSIVE class
*WORKSHOPS
*PRIVATE lessons
*Evening/Saturday class
– Valid for BILDUNGSURLAUB (for professional German students. More information)
INTENSIVE PLUS 20h (For STUDENT VISA application)More information
EXTENSIVE EVENING 3h
19h15-20h45 Mon&Wed, Tue&Thu
(according to level)
EXTENSIVE EVENING 5h
Professionnal French
Mon&Wed
*18h15-19h15 writing & grammar)
*19h15-20h45 oral communication
Check Availability
Min. A2+/B1 required
INTENSIVE; STANDARD: We recommend INTENSIVE (15h) if you wish to improve your French skills efficiently in a short period of time. A STANDARD course will be a good option if you can stay in Paris for a while and wish to take French lessons regularly.
EXTENSIVE: If you are not available during the daytime because of work or studies, we recommend EXTENSIVE Saturday and Evening French lessons. However, please note that this course is not adapted for intensive learning.
"COMBINED" COURSES: INTENSIVE/STANDARD + OPTION COURSE : Private lessons / Workshops / E-learning Plateforme The most efficient, complete formura of our French program. Impove both "the bases of your general French" and "your specific weak points" (conversation, writing, grammar, pronunciation, Business French).
2. OPTIONAL FRENCH COURSES
AFTERNOON THEMATIC WORKSHOPS
You might already know which particular French skills you need to strengthen to achieve your objectives: to find a job, to better communicate in your workplace or daily life, to be successful in your studies or to pass French exams such as TCF and DELF, etc. Unlike other main French courses, the thematic WORKSHOPS aim to improve specific French skills such as conversation, writing, pronunciation, etc. and are conducted in small groups of 2-7 students.
EVENING WRITING WORKSHOP (PROFESSIONAL FRENCH)
Min A2+/B1 level required. This workshop aims to reinforce grammar understanding, enlarge vocabulary and expressions of general business French and improve writing skill for professional use. You can choose the themes of the workshop according to your needs. It is possible to take them with or without INTENSIVE /STANDARD courses. More information here.
PRIVATE FRENCH LESSONS IN PARIS
If you study French in France with LUTECE LANGUE, it's a good chance to work on specialized French or to concentrate on strengthening your weak-points in general French.
Private lessons are a flexible and customized formula as you can decide the theme and the rhythm of lessons. It would be the best option if you need to develop technical vocabularies related to your specialization or reinforce your needs in general French. More information here.
PRIVATE FRENCH LESSONS VIA ZOOM
The key for quality online French private lessons is obviously the teacher. Discover our ZOOM French lessons with selected, qualified and experienced teachers. You can take our ZOOM French lessons BEFORE and AFTER your French class at LUTECE LANGUE à Paris. It is also possible to take only online lessons without classes.
Discover our Online Private French lessons, interactive and communicative, just like our face-to-face private lessons at the school! More information here.