General French Courses in Paris – all levels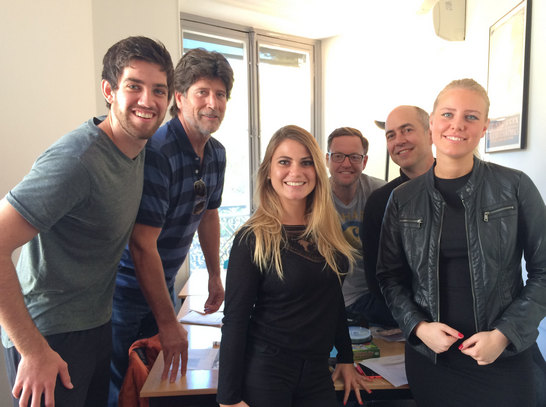 Lutece's French immersion programs in Paris are one of the top choices to learn French in France
LUTECE LANGUE has provided French courses in Paris for over 20 years. French language programs for foreigners, both professionals and, individuals. Small groups of 2/7 students, covering from beginner to advanced levels. And of course, all the students are placed in a class according to their current oral, writing and comprehension level.
In addition, we adopt a "direct" teaching method (teaching French in French without translation) because we believe it's the most efficient approach to developing students' communication skills. In fact, our goal isn't just to teach grammar and vocabulary. Rather, we focus on teaching how to use tools (grammar and vocabulary) in the act of communication.
Our French program is designed for adult students (18+)
Check the information about French courses for COMPLETE BEGINNERS
INTENSIVE 15h/week  
3h x 5 days, Monday to Friday
9h00-12h15 or 13h15-16h30 (according to level)
SUPER INTENSIVE 30h/week
Required level: min. A2
*INTENSIVE class
*WORKSHOPS
*PRIVATE lessons
*Evening/Saturday class
– Valid for BILDUNGSURLAUB (for professional German students. More information)
INTENSIVE PLUS 20h (For STUDENT VISA application)More information
EXTENSIVE EVENING 3h
19h15-20h45 Mondays & Wednesdays, Tue&Thu
(according to level)
EXTENSIVE EVENING 5h
Professionnal French course in Paris
Mondays & Wednesdays
*18h15-19h15 writing & grammar)
*19h15-20h45 oral communication
Check Availability
Min. A2+/B1 required
INTENSIVE; STANDARD: We recommend INTENSIVE (15h) if you wish to improve your French skills efficiently in a short period of time. A STANDARD course will be a good option if you can stay in Paris for a while and wish to take French lessons regularly.
EXTENSIVE: If you are not available during the daytime because of work or studies, we recommend EXTENSIVE Saturday and Evening French lessons. However, please note that this course is not adapted for intensive learning.
"COMBINED" COURSES: INTENSIVE/STANDARD + OPTION COURSE : Private lessons / Workshops / E-learning Plateforme The most efficient, complete formula of our French program. Improve both the bases of your general French and your specific weak points (conversation, writing, grammar, pronunciation, Business French).