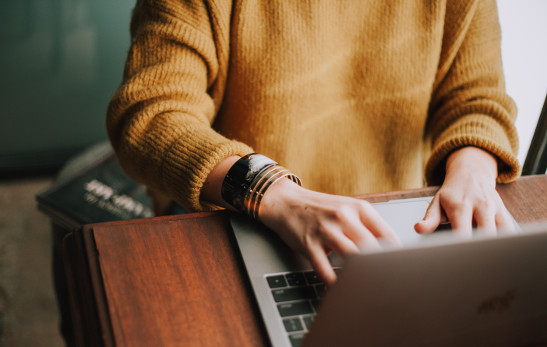 Our Online French courses are rapidly becoming our most popular option. Since the school's shutdown in mid-March due to the Covid-19 crisis, our French teachers have been providing Online French courses with the same quality, efficiency and teaching approach as those of On-site French courses. Whether in small groups or in a private, one-to-one class, our Online French courses focus on developing the student's oral communication skills, with a solid basis of grammatical understanding.
Many students hesitate to try our Online classes due to previous unfortunate experiences, or because of a general image of passive, lecture-like lessons. However, once they have tried a lesson, they find themselves enjoying the Online class. This is because they realize our Online classes are interactive, and they are expected to actively participate in class activities and practice speaking, as is the case with our usual face-to-face classes at school.
In these times of uncertainty and instability regarding traditional classroom education and of social distancing measures, many learners are starting to appreciate and take advantage of the benefits of learning a language online. With our experienced, qualified and professional native French teachers, you will be able to:
Receive French teaching with the proven quality of the established French language school
Save the time spent on public transport and commuting to school.
Enjoy the flexibility of learning French wherever you are, whenever you want.
Benefit from easily accessible quality French lessons, BEFORE and AFTER your stay at our school in Paris. All you need is an Internet connection and a headset!
It's time for Online learning! If you want to keep learning and expand your academic and professional goals with one of the fastest-growing languages in the world, our Online French courses are your best ally. Choose the one that best suits your needs!
Online French Group Courses
If you want to have a learning experience similar to the one you would have at a school, try our small group French courses (2-7 students per group) and have fun with your classmates!
Private Online French lessons
Learn French in a personalized way, with our qualified teachers, and focus on the skills you need to improve. Possible for general and specialized French.
E-learning Platform for French exam preparation
If you prefer self-directed learning, improve your French with our E-learning Platform. This platform is also ideal to prepare yourself for French exams such as TCF and DELF/DALF.
Blended Learning =recommended formula=
Progress faster in French by associating E-learning Platform preparation with private or group lessons! Train yourself on the platform to consolidate your grammar, review vocabulary and expressions, do exercises and tests. Then concentrate on working on your oral skills during the class with a teacher.