Lutece Langue, Your French School in Paris
Lutece Langue French school in Paris was founded in 1997 by Eriko Pagnon, who is a native of Japan, passionate about language learning. Together with a carefully selected team of native French educators, she wanted to create an ideal environment for French school students using a dynamic and personalized immersion method of teaching French.
Today, more than 20 years later, Lutece Langue has a highly regarded reputation for language learning and student care.
Eriko PAGNON : Director
BA Sophia University, Tokyo, JAPAN
MBA University of Illinois, USA
When Eriko moved to Paris in 1996 with her French husband, she barely spoke French. However, she had already a dream that she wanted to realize – to create an ideal French school for "students" in Paris! With her rich experiences as a "student" in language learning, she had a clear idea of an ideal French school in Paris that she herself would be happy to attend.
Eriko has studied languages in public and private institutions in Japan, England, the United States, Canada, and France. Naturally, she knows language learning is rewarding and gives a great pleasure. But, she also understands it can be difficult, frustrating, and disappointing at times. During her time as a student, she was able to assess various teaching methods. This led her to identify many of the problems and weaknesses within the system. She discovered that many language schools had too many students with class sizes that were too large. This means the schools are unable to provide personalized attention and the teachers are also unable to address the needs of the individual students.
Our French School in Paris
At LUTECE LANGUE, classes are limited to 2-7 students to maintain our high standards of quality and service. Keeping classes small is crucial to ensure students to have the teacher's attention they need during their course.
Learning French is an investment of time and energy. It can't be achieved without hard work and dedication. We aim to instill the confidence and enthusiasm that's required to learn French in a warm, friendly atmosphere. At LUTECE LANGUE, we aim to support our students and help them to achieve their goals, whether they are learning in Paris or from a distance.
When you arrive at LUTECE LANGUE, you will be welcomed by our professional teachers. All of them are warm, dynamic, and attentive to the students. They are focused on creating the ideal conditions of classroom interaction and they all strive to identify the most effective learning path for each student.
The teachers at LUTECE LANGUE work as a team because our goal is to produce the highest quality French teaching. They achieve coherence between the classes and this ensures the optimal progression of each student. Our teaching method is based on the communicative approach and the emphasis is naturally on oral practice. We teach French in real-life situations, using customized materials which have been carefully chosen by the staff.
Christine DEMOERSMAN : Head FLE teacher
Master FLE, University of Rouen
Christine is an expert in French as Foreign Language – FLE with more than 15 years of experience. Her teaching career includes periods in Paris and London. She has taught French to children, students, adults, and professionals. At LUTECE LANGUE, she teaches French from beginner to advanced levels.
In addition, as the head teacher of the school, she is in charge of coordination of the teaching staff. She makes sure all the classes run smoothly and that the class levels remain consistent. New students talk to her to test their oral French level. Christine determines the initial class placement and establishes the school course planning every week. Finally, her job also includes giving advice to students by monitoring their progress.
Candy RALUY : Thematic Workshops Coordinator
Master FLE, University of Montpellier
Candy has teaching experience in France as well as abroad (in Morocco, South Korea, India and Equador). Her travels abroad mean she knows how to animate a class with students from different cultures. In addition to general French lessons in the morning, she teaches the afternoon Thematic French Workshops with great passion. The "conversation workshop" will give you the confidence to speak French in daily conversations.
She also helps you to improve your pronunciation and intonation in the "Pronunciation/Theatrics practice Workshops." After that, you will advance your expressive and grammar skills in the "Writing Workshops".
Candy also runs the "Paris visit and conversation Workshop". You will practice speaking French while strolling through the streets of central Paris. It's a delight to discover the secrets of the city not known to most tourists beyond our French school in Paris.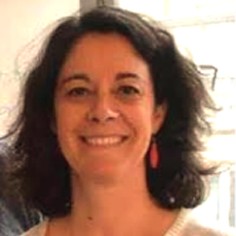 Marie-Emmanuelle: Teacher who links the teaching of the French language to art and culture.
Thanks to this French teacher, you will not only improve your language skills but also enrich your general culture. Marie-Emmanuelle will speak to you with passion about the news of cultural events in Paris as well as literature. It will make you appreciate poems and excerpts of plays. In her courses, you will enrich your general culture and sharpen your sensitivity to art. You will learn to observe, comment, and criticize a work of art with a rich and precise vocabulary. She will offer you, among other things, lectures followed by debates, guided discussions on current events, studies of texts of French songs. Her mastery of several European languages allows her to answer precise and effective questions of grammar and lexicon. The language of Molière will have no more secrets for you!
Maryse: the teacher who awakens your creativity!
Maryse will help you to nuance your expression by teaching you different language registers and idioms. You will thus be able to better understand oral French and the unfamiliar expressions little taught in classical classes. She also has the talent to make students laugh thanks to her contagious good humor and her sense of humor. It is very… French! Maryse offers courses rich in authentic media: advertisements, film excerpts, sketches, magazines, etc. You will not be bored in Maryse's classes and you will be able to better understand the informal French to which you are exposed outside of classes.
Jean – experienced teacher with theatrical techniques
Even if you are very shy when speaking French, Jean will succeed in drawing out your French!! He is an experienced French teacher with acting experience in the theater. Jean teaches you how to speak French spontaneously. Most of all he uses theatrical techniques and has an excellent knowledge of culture and literature. He will let you play and learn to love the French language.