Remember our post on interesting facts about France? Maybe many of you didn't know that about a quarter of France is covered by forests, which makes it the 4th most forested country in the EU, after Sweden, Finland, and Spain.
We also learned that France is the most visited country in the world. And it's so for a good reason. Not only its huge architectural and human patrimony make the delight of millions of visitors every year but they also have many marvelous natural wonders only the luckiest get to admire.
Though there are many more, here we have selected 5 natural wonders in France every student taking a French course in Paris shall note down in their bucket list:
Mont Blanc mountain
The Majestic Mont Blanc is the highest mountain in Europe. Located in the French Alps, at the border between Italy and France, the mountain rises to 4,808 meters high. It is the 11th highest peak in the world. It is surrounded by numerous glaciers: south Freney, Brenva, Miage, Mont Blanc and Brouillard, and north to Bossons and Mer de Glace. Being a popular site for climbers, it was not until 1786 that the first climber made the first successful summit attempt. Mont Blanc is considered one of the deadliest mountains in the world due to the number of skiing accidents, plane crashes and tunnel fires.
Falaises d'Etretat (Etretat cliffs)
Étretat is a French farming town located in the region of Haute Normandie. It is very popular for its wonderful cliffs situated in a resort beach. These cliffs were an inspiration for such renowned French artists as Eugene Boudin, Gustave Courbet, and Claude Monet. One of the most iconic images of Étretat cliffs is the beautiful natural arch and the 'elephant trunk', a naturally formed needle emerging from the sea. Definitely, a must stopping by and eating an artisanal ice-cream or relaxing in its long pebble beach.
Dune du Pilat
One of the most beautiful and visited natural sites in France. This impressive, breath-taking dune is the highest in Europe. Located 70km southwest of Bordeaux. With 2,7 km long from north to south and 500m from west to east, with more than 60 million cubic meters of sand deposited by the wind.
Dune du Pilat is a perfect place for hiking, paragliding, or just wander around and enjoy the feeling of freedom and eternity.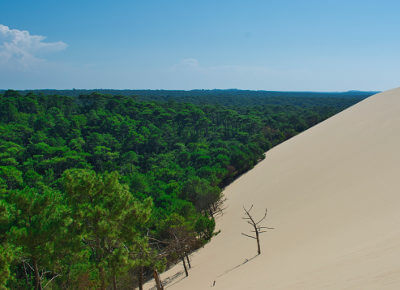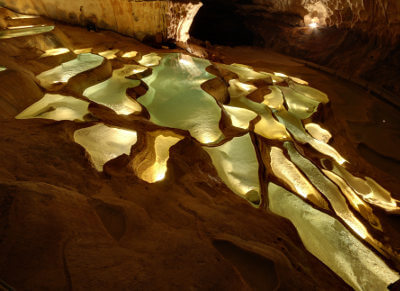 La Grotte de St Marcel d'Ardèche (Cave of St Marcel d'Ardèche)
Close to the Bidon region remains hidden a natural treasure that makes every visitor feel they are in a magic world. We are talking about the Grotte of St Marcel d'Ardèche. Discovered by a hunter in 1836 when chasing over his ferret, by accident he stumbled upon an underground system formed by galleries 57km long. One of the main attractions in the cave is their magical cave pools created by the accumulation of calcite and other minerals. The enchanting lighting in the galleries and cave pools give this place a fairy tale environment.
Gorges du Tarn, Lozère
The Gorges du Tarn are spectacular gorges that run along the Tarn river in the department of Lozère, in Southern France. Gorges du Tarn are one of the deepest in Europe and one of the most beautiful natural wonders in France. They are surrounded by rocky cliffs crossed by roads with great spectacular panoramic views. There is a road right along the bed of the gorge with many places to stop by and enjoy this marvelous spot in France.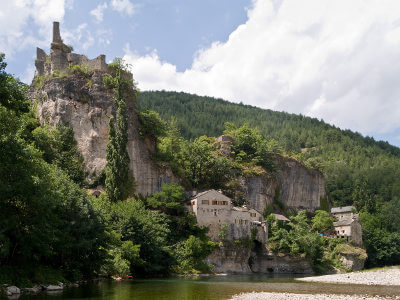 Eager to discover all these and many more natural wonders in France?
Learn French in Paris and enjoy French nature