Everything you can find in Paris is a masterpiece. Culture, art, and food. In our post "Top 5 tourist attractions near Lutece school you can't miss" we discovered 5 monuments and museums embodying some of the best of Parisian and French art and architecture.
Yet, Paris hides many more treasures than those visible around. One of them is its exquisite gastronomy, tasting of species and made with the best ingredients by some of the most renowned chefs around the world.
One of the best ways to get closer to a certain culture and something people are always happily proud to share is their food. Every student who comes to learn French in Paris love to try new things and immerse deep into the new culture they have arrived in.
So if you want to make the most of your stay and enjoy the quality of our gastronomy, keep reading and discover these 8 typical dishes you shall try while learning French in Paris!
Soupe a L'Oignon
This onion soup already known worldwide is an emblematic dish of the French and Parisian cuisine. Though originally it was considered a dish for the humble and the poor, nowadays it has become a meal fit for a king. Onions slowly browned in butter, chicken stock and delicious cheese served upon a thick slice of toasted bread. Sounds delicious, right? don't forget to taste it!
Pot au Feu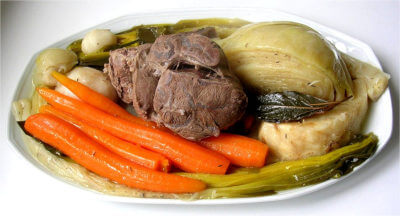 The heart of French cuisine and a symbol of French history. The origins and changes in the making of this dish reflect the historical changes of France itself. From an earliest consumption by the humble, to be the gold nugget of the aristocracy, to unite every social class in a shared love for this dish. What is it made of? A hearty stew containing marrowbone or oxtail and root vegetables and seasoned with spices.
Escargots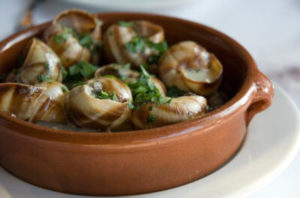 Snails. Yes, snails. You have read it right. Though it may sound strange for people coming from other countries, this dish is very popular in Paris and France in general.
And they actually taste better than what you may think. The snails are baked in the oven and seasoned with garlic, parsley, and butter. If you are into new things escargots may be your thing!
Coq au vin
For wine and chicken lovers. Coq au vin is a traditional Parisian stew made with chicken and seasoned with red or white wine.
Vegetables give it the final touch: onion and bay make it taste incredibly well. A must in your "what to eat" list when in Paris!
Foie-gras
This popular dish is described as rich, delicate and buttery-tasting. A luxury food in France, it is made out of the fattened liver of a duck or goose. The animal is fed with large amounts of corn until their liver becomes fatty and acquires the mild liver flavor. A true delicatessen!
Mille-feuille
The gem of French pastry consisting of three crispy thin layers filled with pastry cream. Sweet, exquisite and delicious. Mille-feuille is mouth-watering at sight and perfect for a dessert to try with your classmates while studying French in Paris.
Ratatouille
This typical French dish is a mix of vegetables: onion, aubergines, tomato, zucchini, and peppers. Seasoned with garlic, oregano, and oil, this food makes the delight of every tourist, whether you are a veggie or not.
Macaron
There are two ways of making Macarons: using the French or the Italian method. With the French method, white eggs are whipped with sugar until they are as stiff as they can be. Then, almond flour and powdered sugar are added into the meringue to form a batter. It tastes as delicious as it sounds!
Thinking about learning French? Loving French food already?
Take a French course in the mornings and enjoy the best of French cuisine in the afternoons!