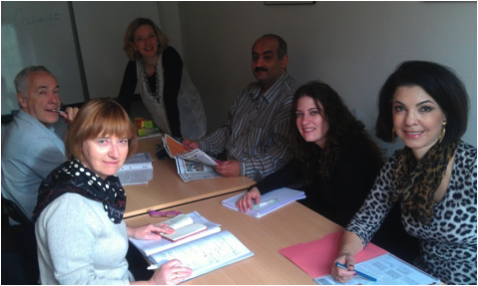 We've moved to a new location!
6 rue Las Cases 75007 PARIS, Metro Solférino (Line 12)
Professional French Courses for Companies, OPCA & Pôle Emploi
Lutece Langue has been providing professional French courses for companies since 1997.  Our goal is to deliver high quality language training. We achieve this with a dynamic approach and small classes. 
Here at Lutec Langue, we know how daunting it can be to work for a French company when you are a foreign national. The key to settling down in France is language fluency. It will help with every aspect of living and working here. Your company will benefit from having staff who can use their French with confidence
Our French courses will give your employees the tools they need to improve their language skills. You can choose a language course or a workshop for them. We offer general or business French and we cover the four skills of reading, writing, grammar and conversation.
Classes are held here at the Lutece Langue school or at your company premises. Groups are kept between 2-7 students, which we find creates a friendly atmosphere and encourages French conversation.
Our courses have a flexible timetable. You can learn during the day, at work, or in the evenings and at weekends. Private French lessons can also be arranged. You can have one-to-one lessons in person or by using Skype. Choose from the following courses:
FRENCH COURSES FOR COMPANIES IN PARIS – OBJECTIVES
To build confidence. Teach students how to express themselves in French. Being able to use French will  make them feel comfortable at work and in personal situations

Communicate with company staff in French. Speak with confidence. Be part of the team and join in with work colleagues

Become productive members of staff. This will contribute to the success of your company

Get to know more about French culture and society
Our school engagements
1. Quality: professional French language training in small groups of 2-7.
We help our students' speak French in daily and professional situations. Lessons are on a one-on-one basis, or in small group lessons. Students receive personal attention from an experienced native French teacher. The result is a rapid development of oral and comprehension skills.
2. Efficiency:
Before we assign a course to a student we go through the following steps:
Analyze : We talk to them about what they want out of their French studies and look at their needs and objectives. Finally, we study their background and situation
Audit of French proficiency: We check the students' skills and carry out oral and written tests in French. These are:

oral production

oral comprehension

writing production

writing comprehension

Training: We then offer a program most suitable to the student's needs.
Progress: Our teachers monitor the progress of each student every day. In the case of rapid progress or lack of improvement, we make changes. For example, in class level or teaching approach.
Final evaluation: we assess the student's achievements and give advice for further French study.
3. Simplicity:
You can apply for financial support from OPCA, within the framework of:
CPF (Compte Personnel de Formation)
Professional Continuing Training (Formation professionnelle continue)
4. Value for money
We offer high quality, French language training at a reasonable fee. Small classes mean students receive personal attention and this helps them to achieve their goals quickly. Your company gets fast results without sky high costs.