Professional French Courses for Companies, OPCA & Pôle Emploi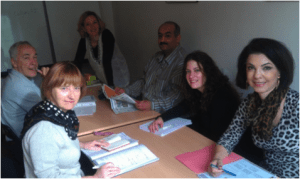 Lutece Langue has been providing professional French courses for companies since 1997. Our goal is to deliver high-quality language training. We achieve this with a dynamic approach and small classes.
Here at Lutec Langue, we know how daunting it can be to work for a French company when you are a foreign national. The key to settling down in France is language fluency. It will help with every aspect of living and working here. Your company will benefit from having staff who can use their French with confidence.
Our French courses will give your employees the tools they need to improve their language skills. You can choose a language course or a workshop for them. We offer general or business French and we cover the four skills of reading, writing, grammar and conversation.
Classes are held here at the Lutece Langue school or at your company premises. Groups are kept between 2-7 students, which we find creates a friendly atmosphere and encourages French conversation.
Our courses have a flexible timetable. You can learn during the day, at work, or in the evenings and at weekends. Private French lessons can also be arranged. You can have one-to-one lessons in person or by using Skype. Choose from the following courses: